Membership Meeting
Meetings will usually be held at Stone Pine Hall, 210 South H St, next to the Lompoc Museum on the 3rd Tuesday of each month

Our Next Meeting
Tue August 16th at 7PM in Stone Pine Hall



Auditions




Nunsense
Past Productions

Click To View Past Productions!
Contact Us

P.O. Box 69
Lompoc, CA 93438
(805) 735-ACT1

Current Happenings

Nunsense
Email for info about:

Tickets
Current Production
Auditions
Membership
General Information
or email the
Webmaster
Friends

LHS Drama
Lompoc Pops Orchestra
Santa Maria Civic Theatre
Lompoc Chamber of Com.
Lompoc Valley Art Assoc.
Cabrillo High School Choir and Drama
Scholarship Forms

About LCT Scholarships
Gloeckner and General Scholarship
Board of Directors

President..Larry McLellan
Vice-President..MaryLou Kerwood
Recording Secretary.. Melissa Pruitt
Treasurer..William Koseluk
Business Manager..Charles Sommer
Corresponding Secretary..Pat Roby
Members-at-Large..David Gaertig, Noël C. Shields
Past President..Marian C. Stave
Extended run of NUNSENSE is sold out!
Click here to read a preview article of Nunsense from the Santa Maria Sun
Click here to read a preview article of Nunsense from the Lompoc Record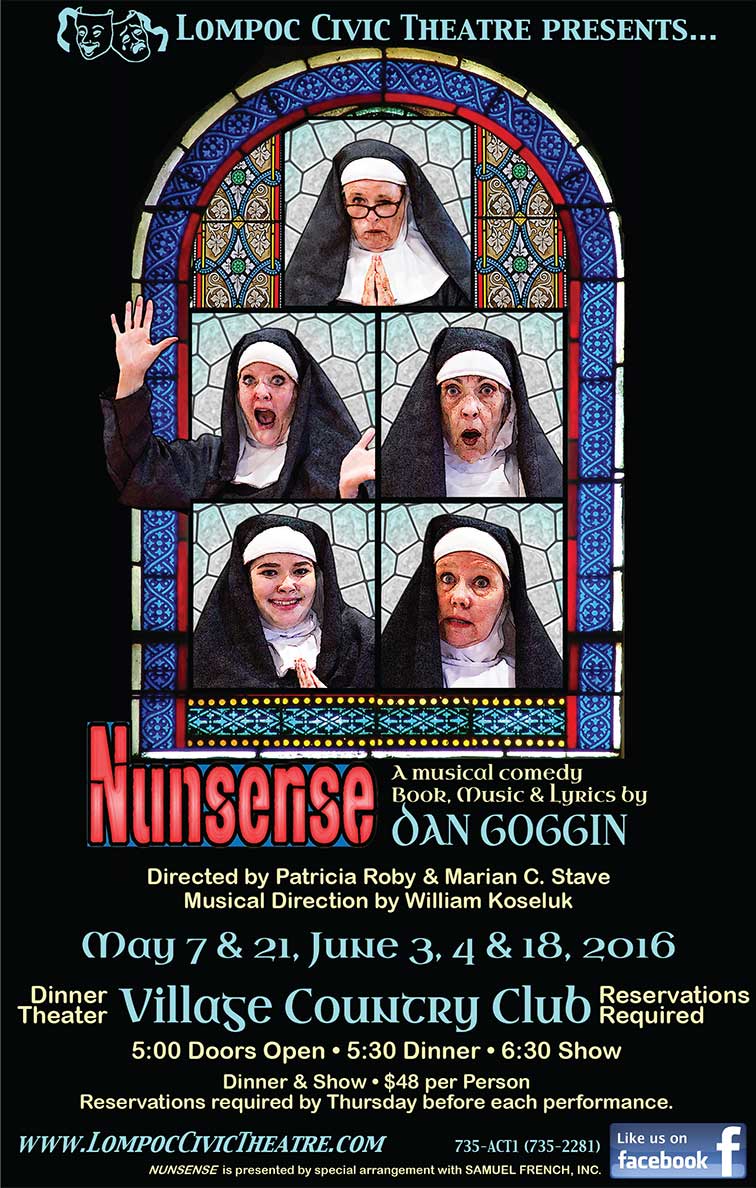 Spring 2016 Message from LCT Board President Larry McLellan

Lompoc Civic Theatre's 2016 season continues with the musical comedy "Nunsense," a dinner theater production at the Village Country Club. "Nunsense" is a hilarious, madcap, song-packed musical showcasing the upbeat adventures of five nuns trying to pull off a fundraiser.  There's the ballet-loving Sister Leo, the street-wise Sister Robert Anne, the befuddled Sister Mary Amnesia, the mistress of the novices Sister Mary Hubert, and of course, the indomitable and lovable Mother Superior, Sister Regina.  One crazy antic follows another.  These five tuneful spirits will make you laugh, cry, and enjoy a fantastic evening of song and cheer!  Said The New York Times, "A hail of fun and frolic!  Wacky and outrageous!" "Nunsense" is brought to you by the same team who produced last year's "I Do! I Do!": Co-Directors Patricia Roby and Marian C. Stave and Musical Director William Koseluk. Performances will be held on Saturdays, May 7 and 21, June 4 and 18. We'll also have a Friday performance on June 3. Reservations are required two days before each performance. Call LCT at 735-2281.

We'd like to thank everyone who came to "Two Point Oh," the first show of our 43rd anniversary season! It was a technically challenging production, but thanks to the genius of Technical Director David Gaertig and the extremely talented cast, it proved to be a very successful show.

Our fall production will be "California Suite," the classic comedy by Neil Simon, performed at the Civic Auditorium. Four sets of travellers pass through the same hotel room and--both literally and figuratively--bring all their baggage with them. On behalf of the Board of Directors of LCT, thank you to all the individuals, businesses and organizations that support us as we celebrate keeping theater LIVE in Lompoc since 1973!