Membership Meeting
Meetings will usually be held at Stone Pine Hall, next to the Lompoc Museum on the 3rd Tuesday of each month

Our Next Meeting
Day and Time:
Tuesday March 17th at 7PM



Auditions




I Do! I Do!
Past Productions

Click To View Past Productions!
Contact Us

P.O. Box 69
Lompoc, CA 93438
(805) 735-ACT1

LCT Meeting Minutes

Current Happenings

Musical Workshop
Email for info about:

Tickets
Current Production
Auditions
Membership
General Information
or email the
Webmaster
Friends

LHS Drama
Lompoc Pops Orchestra
Santa Maria Civic Theatre
Lompoc Chamber of Com.
Lompoc Valley Art Assoc.
Cabrillo High School Choir and Drama
Scholarship Forms

Gloeckner Scholarship form
General scholarship form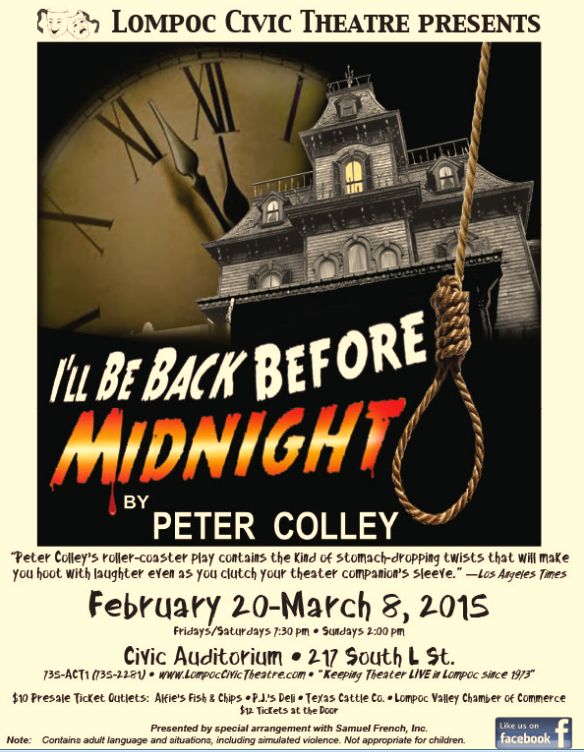 Winter 2015 Message from LCT Board President Larry McLellan

Lompoc Civic Theatre is very excited to welcome you to our 42nd anniversary season! We begin 2015 with the Central Coast Premiere of "I'll Be Back Before Midnight," a comedic thriller written by Peter Colley and directed by Paul Thornton. This is the most widely produced play by a Canadian playwright and has been performed in 29 countries in many languages. "Midnight" tells the story of Greg, an archaeologist, and his wife Jan, who has recently been released from the hospital following a nervous breakdown. Greg's beautiful but manipulative sister, Laura, comes to visit and the suspense begins. George, who owns the farmhouse the young couple has rented, tells them about a murder that took place there and the ghost who still haunts the house. Performances will be held at the Civic Auditorium, 217 South L Street, from February 20 through March 8 on Fridays and Saturdays at 7:30 pm and Sundays at 2:00 pm. Doors open half an hour before the show begins. Presale tickets for $10 are available two weeks before the show opens at Alfie's Fish & Chips, P.J.'s Deli, Texas Cattle Co. and the Lompoc Valley Chamber of Commerce. Tickets at the door are $12. Military, senior and student tickets as well as Sunday matinees are $10. This production, presented by special arrangement with Samuel French, Inc., contains adult language and situations, including simulated violence. It is not recommended for children.

The 2015 season continues with two dinner theater productions at the Village Country Club. In the spring we'll produce a musical "I Do! I Do!" by Harvey Schmidt and Tom Jones, most famous for "The Fantasticks" which ran off-Broadway for over 42 years, making it the world's longest-running musical. "I Do! I Do!" will be co-directed by Marian C. Stave and Patricia Roby. William Koseluk will serve as Musical Director. In the fall we'll have another Central Coast Premiere with "Indoor/Outdoor" written by Kenny Finkle and directed by Larry McLellan, a comedy about Samantha the cat and her very human challenges as she strives to find her way in the world. Our season will end with a family-friendly holiday show "Last Stop Till Christmas" written by Pat Cook and directed by Patricia Roby. On behalf of the Board of Directors of LCT, I'd like to thank all the individuals, businesses and organizations that support us as we celebrate keeping theater LIVE in Lompoc since 1973!