Membership Meeting
Meetings will usually be held at Stone Pine Hall, 210 South H St, next to the Lompoc Museum on the 3rd Tuesday of each month

Our Next Meeting
Tue Mar 16th at 7PM in Stone Pine Hall



Auditions




Nunsense
Past Productions

Click To View Past Productions!
Contact Us

P.O. Box 69
Lompoc, CA 93438
(805) 735-ACT1

Current Happenings

Indoor/Outdoor
Email for info about:

Tickets
Current Production
Auditions
Membership
General Information
or email the
Webmaster
Friends

LHS Drama
Lompoc Pops Orchestra
Santa Maria Civic Theatre
Lompoc Chamber of Com.
Lompoc Valley Art Assoc.
Cabrillo High School Choir and Drama
Scholarship Forms

About LCT Scholarships
Gloeckner and General Scholarship
PCPA Young People's Project Scholarship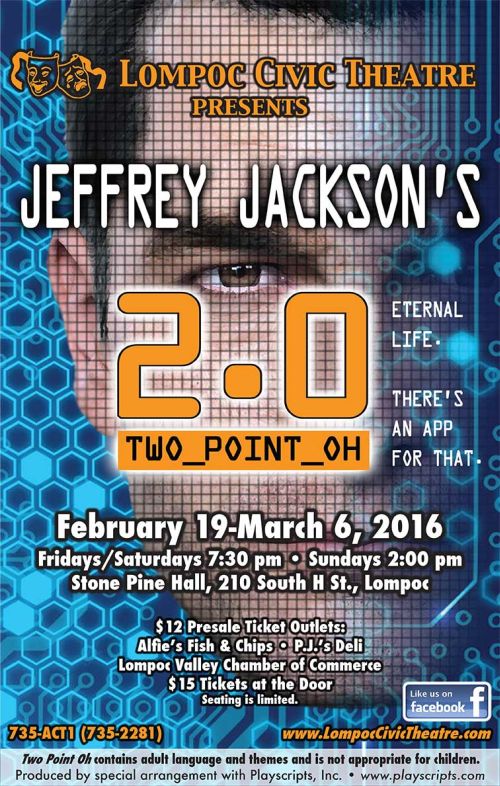 Winter 2016 Message from LCT Board President Larry McLellan

Lompoc Civic Theatre is very excited to welcome you to our 43rd anniversary season! The first show of 2016 is the West Coast Premiere of "Two Point Oh," a provocative award-winning drama written by Jeffrey Jackson and directed by Larry McLellan. "2.0" is about a pioneering software mogul whose private plane crashes into the Pacific. His wife later discovers a virtual reality simulation of her husband that he created prior to his disappearance. "Elliot 2.0" is a talking, thinking, virtual soul. And though merely an image on the video screens of their wired, high-tech mansion, he can hold conversations, share memories, and perhaps even grow in intelligence and capacity. The question is... is he alive? "2.0" will be performed from February 19 through March 6 at Stone Pine Hall, 210 South H St., with shows on Fridays and Saturdays at 7:30 pm and Sundays at 2:00 pm. Seating is very limited (approximately 50). Doors will open thirty minutes before each performance. Presale tickets for $12 will be available two weeks before opening at our ticket outlets: Alfie's Fish 'n' Chips, P.J.'s Deli, and the Lompoc Valley Chamber of Commerce. Tickets at the door are $15. Military, senior and student tickets as well as Sunday matinees are $12. This production, presented by special arrangement with Playscripts, Inc., contains adult language and situations. It is not appropriate for children.

Our 2016 season continues with the musical comedy "Nunsense," a dinner theater production at the Village Country Club. The team that brought you "I Do! I Do!" in 2015 is back with this hilarious, madcap, song-packed musical showcasing the upbeat adventures of five nuns trying to pull off a unique fundraiser. These five tuneful spirits will make you laugh, cry, and appreciate a great evening of fun and song! "Nunsense" will be co-directed by Patricia Roby and Marian C. Stave. William Koseluk will serve as Musical Director. Performances will be held every other Saturday from April 23 through June 18. It's never too early to make your reservations! Call LCT at 735-2281. Our fall show will be "California Suite," the classic comedy by Neil Simon, performed at the Civic Auditorium. Four sets of travellers pass through the same hotel room and--both literally and figuratively--bring all their baggage with them. On behalf of the Board of Directors of LCT, I'd like to thank all the individuals, businesses and organizations that support us as we celebrate keeping theater LIVE in Lompoc since 1973!