Membership Meeting
Meetings will usually be held on the second Tuesday of each month at Stone Pine Hall, next to the Lompoc Museum

Our Next Meeting
Day and Time:
Tuesday January 13th at 7PM



Auditions




I Do! I Do!
Past Productions

Click To View Past Productions!
Contact Us

P.O. Box 69
Lompoc, CA 93438
(805) 735-ACT1

LCT Meeting Minutes

Current Happenings

Musical Workshop
Email for info about:

Tickets
Current Production
Auditions
Membership
General Information
or email the
Webmaster
Friends

LHS Drama
Lompoc Pops Orchestra
Santa Maria Civic Theatre
Lompoc Chamber of Com.
Lompoc Valley Art Assoc.
Cabrillo High School Choir and Drama
Scholarship Forms

Gloeckner Scholarship form
General scholarship form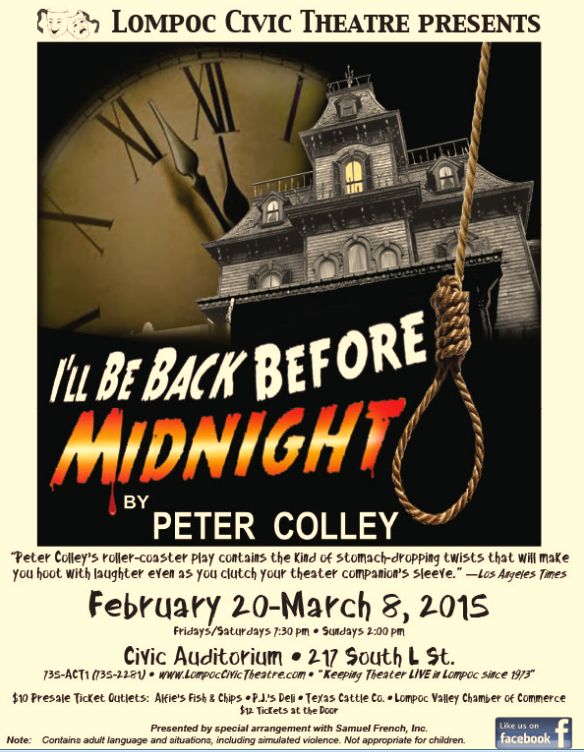 Fall 2014 Message from LCT Board President Larry McLellan

Welcome to LCT and the final show of our 41st anniversary season, the world premiere of an original play by LCT members Michael Callahan and Albert Thompson, Ghosts of El Camino Real, which continues to explore secrets of the past, a common theme of this year's plays. In Ghosts, two contemporary visitors to a California mission hear the tale of a spirited young Indian woman in 1828, complete with forbidden love, jealous rivalry, festive ceremonies—and Ghosts! Please be sure to tell your friends and family about this unique opportunity to see an excellent production, which will transport you back in time to life at the California missions.

LCT had a busy summer with the final sold-out performances of Miracle on South Division Street and the very successful Director's Workshop productions of Brush Yourself Off and Move On and Drugs Are Bad, in the capable hands of LCT's newest director, Patricia Roby. In addition to the Director's Workshop, we organized a full series of sessions beginning with my Publicity Workshop, followed by an Acting Workshop with Joyce Mayhew, a New Play Development Workshop with Michelle Pittenger and Michael Callahan, and a Lighting Workshop with Todd Harper. We have one more coming up on November 15, a Musical Workshop with Laura Hemenway. And we hope to organize a Theater Makeup Workshop in the near future. Thank you very much to our talented facilitators and everyone who participated.

We are currently working hard to finalize what will be an exciting 2015 season. While we aren't ready yet to announce the details, I can say that we're planning TWO!!! dinner theater productions as well as two mainstage shows. On behalf of the Board of Directors and the LCT membership, I'd like to thank all the individuals, businesses and organizations that support us as we celebrate keeping theater LIVE in Lompoc since 1973!