Membership Meeting
Meetings will usually be held at Stone Pine Hall, 210 South H St, next to the Lompoc Museum on the 3rd Tuesday of each month

Our Next Meeting
Day and Time:
Potluck at Brenda and Ben Maltese's home on Sunday, Dec. 27 at 6:00 pm. Please contact LCT at 735-2281 for directions.



Auditions




Last Stop Till Christmas Mon., Oct. 26 & Thu., Oct. 29, 7 pm, Stone Pine Hall, 210 S. H St.
Past Productions

Click To View Past Productions!
Contact Us

P.O. Box 69
Lompoc, CA 93438
(805) 735-ACT1

Current Happenings

Indoor/Outdoor
Email for info about:

Tickets
Current Production
Auditions
Membership
General Information
or email the
Webmaster
Friends

LHS Drama
Lompoc Pops Orchestra
Santa Maria Civic Theatre
Lompoc Chamber of Com.
Lompoc Valley Art Assoc.
Cabrillo High School Choir and Drama
Scholarship Forms

About LCT Scholarships
Gloeckner and General Scholarship
PCPA Young People's Project Scholarship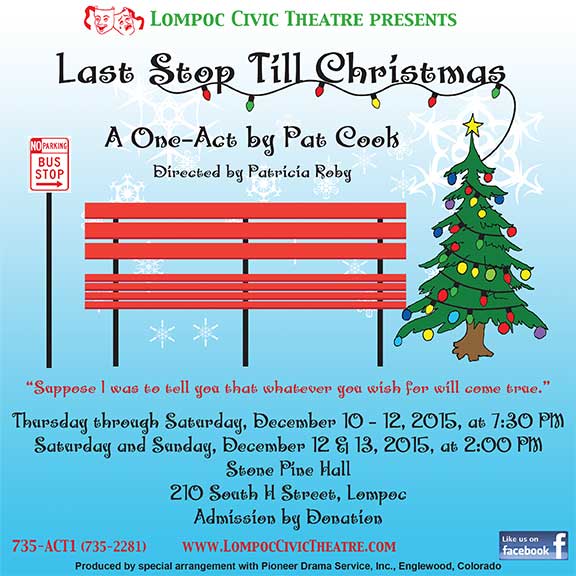 Mid-Summer 2015 Message from LCT Board President Larry McLellan

Lompoc Civic Theatre is very excited to continue our 42nd anniversary season!

Next up is another dinner theater production, the Central Coast Premiere of Indoor/Outdoor, a comedy written by Kenny Finkle and directed by Larry McLellan. Indoor/Outdoor tells the story of a cat named Samantha and Shuman, the man who adopts her from a shelter. Communication between the two goes from great to bad to worse, at which point they meet Matilda, a budding pet therapist. Things get even more complicated when Samantha, the frustrated indoor cat, meets Oscar, a sexy alley cat, who wants to lure her into his outdoor paradise. This clever and charming comedy follows Samanthaís very human challenges as she strives to find her way in the world, with or without the others. Indoor/Outdoor will be performed on five Saturdays: August 22, September 12 & 26, October 10 & 24. You can make reservations by calling 735-2281.

Thank you for joining LCT for our 2015 season, which began with the very successful Central Coast Premiere of Iíll Be Back Before Midnight, a comedic thriller by Peter Colley directed by Paul Thornton. Our spring show was the sold-out dinner theater production of the musical I Do! I Do! by Harvey Schmidt and Tom Jones, co-directed by Marian C. Stave and Patricia Roby with William Koseluk as Musical Director.

Our season will end with a family-friendly holiday show Last Stop Till Christmas written by Pat Cook and directed by Patricia Roby. On behalf of the Board of Directors of LCT, Iíd like to thank all the individuals, businesses and organizations that support us as we celebrate keeping theater LIVE in Lompoc since 1973!